Professional Development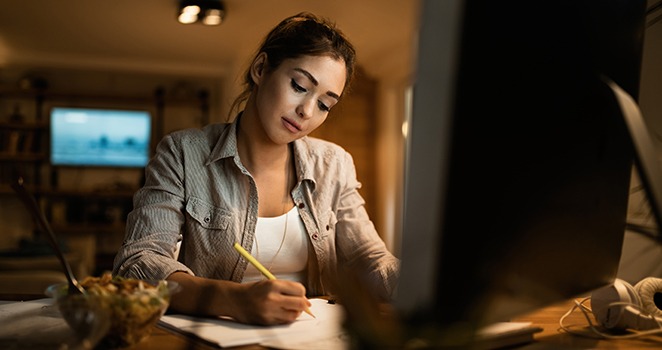 NC-NET Academy Details
An Online Professional Development Program for Faculty
The NC-NET Academy offers facilitator-led online courses delivered via Moodle. Enrollment is open to part-time or full-time community college faculty members in North Carolina. The rationale behind the Academy is that educational ideas cannot simply be presented; they need to be thought about, talked over, and experienced. Academy courses weave together readings, activities, and discussions for participants to construct new understandings in the context of their own situations. Weekly threaded discussions play an essential role in encouraging participants to reflect on the readings, share stories from their lives (and their classrooms), pose questions to the group, and express their reactions. The courses provide an opportunity for faculty from across the state to network with and learn from each other.
Participant Requirements: Full-time and part-time faculty from any community or technical college in North Carolina may apply. Participants should plan to spend 5-7 hours per week on course assignments. Course completers receive a certificate identifying number of contact hours attained and a $100 stipend.
Cost: Funding from the North Carolina Community College System to the NC-NET project (using Carl D. Perkins funds) covers the course tuition for all participating faculty.
Enrollment Policies: A group of 38 colleges are eligible for early enrollment to ensure institutions with fewer resources have an opportunity to benefit from these professional development experiences. Up to six instructors from one college may register for a particular course; additional faculty from the same college will be placed on the waiting list and admitted as space allows. No faculty members will be permitted to take more than one course at a time.
Registration: All course registration occurs online. When the enrollment period for a course is open, you will find a link to the online registration form on the Course Schedule page, below the course description. Participants will be enrolled until each course reaches a maximum of 30 participants. A waiting list will also be maintained.
Comments from Recent Academy Course Completers
"This has been an exceptionally beneficial course to me, helping me to focus on the evolution of teaching strategies and giving me encouragement and inspiration in ways to improve. Just as we as teachers want to help our students learn and develop, we also need time to 'sharpen the saw.' I am impressed and astonished by the degree of professionalism of all the participants – and the depth and breadth of thought in analysis and collaboration. It is hopeful for the future of our students that we have such dedicated and committed adjunct faculty members… I would definitely recommend this course to others. The readings were relevant and well-moderated, and the expectations were high and professional. In this point in the semester when we all are feeling the crunch of projects, papers, and upcoming exams, it is always hard to find the time for one extra thing. But I am so glad I did."
"I learned quite a lot from this course. I was often humbled by the insight of my fellow classmates. I think this course has been helpful to me on many fronts, as it has gotten me to think about teaching techniques and learning styles. I got a bit out of my comfort zone but I think I needed the motivation. I think I will be a better teacher next semester as I try and implement these new ideas into my course. I thank you for this wonderful opportunity to become better at my dream job, and I thank all of my classmates for being there. I will miss these weekly sessions as it was nice to interact with others who faced the same struggles as me, but were still passionate about teaching."
"I took a (technology) class at a local university last fall… I think that in the last 6 weeks I have learned more pertinent, up-to-date, and useful information about this subject than I did in an expensive, semester-long class. I am very thankful for this opportunity and I definitely learned a LOT that I will continue to implement. I have been able to connect with several students on Twitter and I am a little hooked now. I was intimidated by most of it (podcasts, blogging) but it was something I could actually do! And that built my confidence in technology. I have learned so much from you all in such a short time."
"First off, I would really like to kick myself for not taking one of these courses a number of years back. I do feel that as much as technology changes it would be beneficial to most anyone to take this course. My reasons for taking this course were twofold. One reason was I wanted to find ways to augment my instruction and the other was I wanted to try the class out before recommending it to co-workers. I was not disappointed by either the content or workload. I feel the course did a great job of meeting me where I was and taking me closer to where I need to be."
"I can't believe this course is over. I have learned so much that I want to share with my colleagues. This course has reaffirmed for me why I teach and why it is exhausting! I have a new energy to try new strategies in the classroom."
"I've really enjoyed this class and have been energized on a weekly basis by the enthusiasm and genuine thought and dedication you all put into the craft of teaching. I was reminded that teaching is such an evolutionary process and that there is great pleasure in recognizing and rolling with that evolution. It is too easy to get frustrated (sometimes at students) when things don't go well. Stepping back to look at the bigger picture and talk about that with engaged educators has been incredibly refreshing. So, thank you all!"
"Taking this course and thinking about active learning in my classes has helped me better connect with my students, and some of their frustrations with a passive approach to learning. I have underestimated their willingness to take on more of the responsibility of engaging with the content deeply. I think this reflects not only a change in how I view my students, but also how I see my role as teacher. I realize that I really am responsible for creating the environment for them to learn, not just presenting information."
Questions? Please email academy@nc-net.info for additional information.